Young snow leopard dies at Marwell Wildlife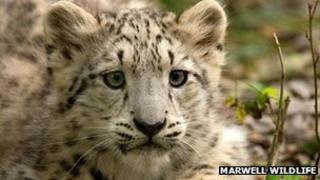 A snow leopard which was born at a Hampshire wildlife park in the summer has died unexpectedly.
The leopard, called Kitana, was one of three born at Marwell Wildlife in June.
Keepers said the six-month-old began to show signs of illness on Wednesday. A vet was called but Kitana deteriorated rapidly and died.
A post-mortem found she had suffered intestinal torsion. The animals, which are endangered in the wild, are part of a European breeding programme.
The other cubs, Kamala and Kadhir, remain healthy, a spokesman said.
'Treatment impossible'
James Cretney, chief executive of Marwell Wildlife, said: "The death of Kitana is a great loss to everyone at Marwell Wildlife, especially our keepers and the veterinary team who have worked closely with the cubs over the last six months.
"Sadly, wild animals often hide their symptoms very well and she gave no obvious indication to keeping staff that she was unwell until Wednesday morning.
"Unfortunately the speed of deterioration made treatment impossible. With what we now know, any attempt at treatment would very likely have been unsuccessful."
Snow leopards are native to the mountains in Central Asia. The animals at Marwell, including the cubs' parents, Irina and Indeever, are part of a European breeding programme.