Man cannot explain Georgina Edmonds murder weapon link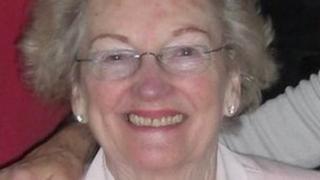 The man accused of murdering a Hampshire woman could not explain why he was forensically linked to a rolling pin used to kill her, a court heard.
Georgina Edmonds, 77, was found beaten to death in her home in Brambridge, near Eastleigh, in January 2008.
Jurors heard how when Matthew Hamlen was asked by police if he had an explanation for his link to the rolling pin, he replied: "None what so ever."
Mr Hamlen, 33, of Bishopstoke, denies murder at Winchester Crown Court.
When Mr Hamlen was interviewed by police he was not aware of the partial DNA profile on the rolling pin, jurors heard.
In police interviews, that were played to the court, Mr Hamlen told detectives following his arrest, that he may have met Mrs Edmonds while walking his mother's dog but claimed he never remembers faces or names.
'Look familiar'
When detectives showed Mr Hamlen photographs of Fig Tree Cottage, Mrs Edmonds' home, the defendant said the area did "look familiar" but claimed the cottage "doesn't ring any bells".
In the interview, Mr Hamlen told police: "I might have had a conversation with her (Georgina Edmonds) and not realised. I see plenty of people. I do not remember names or faces. She (Georgina Edmonds) just looks like a normal old woman, like a typical nan or granny."
He went on to say he walked his mother's dog in the area near Fig Tree Cottage, in Kiln Lane, Brambridge, and spoke to other dog walkers.
When asked by police whether he had been to Fig Tree Cottage on the day Mrs Edmonds died, Mr Hamlen replied: "I can't remember what I was doing that day, but not to the best of my knowledge, no."
Stabbed several times
When asked by police whether he had been into Mrs Edmonds kitchen, where her body was found, he said: "No I don't think so."
Earlier in the trial jurors heard that Mrs Edmonds was stabbed several times with a knife by her killer, who tortured her to force her to reveal her bank card Pin number.
She was also hit over the head with a marble rolling pin from the kitchen where her body was found.
The prosecution alleges Mr Hamlen attempted to use the card and was captured on CCTV wearing a hooded fluorescent jacket.
The trial continues.