Council to buy Rose Bowl cricket stadium and build hotel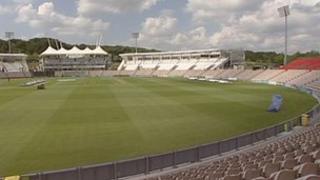 A council will spend nearly £40m to buy Hampshire's Rose Bowl cricket stadium and build a hotel at the site.
On Thursday night, Eastleigh Borough Council voted in favour of the plan to buy the venue for £6.5m to rent back to Hampshire County Cricket Club.
It will spend £32m building a four-star hotel at the Rose Bowl, which made a loss of nearly £900,000 last year.
The Lib Dem-run council claims it will create hundreds of jobs, but a hotelier said it was "improper and unfair".
Buying the ground and building the hotel will benefit the local economy and create 500 full-time jobs, the council's leaders said.
But leader of the minority Conservative group Godfrey Olsen criticised the plan.
He said: "It's [The Rose Bowl] a superb venue and I would like to see it survive.
"But I still believe that this is outside the remit of the local authority to borrow money to fund the building and the ownership of a hotel at the Rose Bowl.
"Added to that now, they've decided to buy the Rose Bowl itself, which has been in a loss making situation for the past two or three years."
'Not selling tickets'
Local businessman Moez Janmohamed, who operates the neighbouring Holiday Inn hotel, has also called the idea "improper and unfair".
Council leader Keith House defended the decision, saying: "The council owns vast amounts of property across the borough, from hotels to shopping centres and office blocks. It's just part of our ordinary business.
"We invest in property, we take the income from secure tenants and we use that to keep council tax down and ensure that our services are protected from cuts.
"We'll own the site but we're not going to be selling cricket tickets - that's for the private sector to do."
The plan includes a four-star hotel with 175 bedrooms, along with a conference centre and 18-hole championship golf course.
It is intended to make the Rose Bowl more profitable and attractive to international and Test match cricket events.
The work on the hotel could start early next year and is expected to take 18 months.