HMS Victory gets 100th commander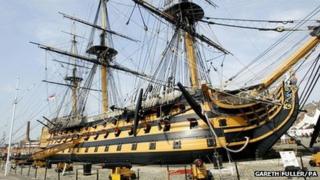 The 100th commanding officer of HMS Victory has taken up his post in a ceremony at Portsmouth Naval Base.
Lt Cdr "Oscar" Whild, in command since September 2008, handed over to Lt Cdr Rod Strathern in the Great Cabin on Friday.
The ship is celebrated for being Lord Nelson's flagship in the Battle of Trafalgar in 1805.
Built between 1759 and 1765, it is the oldest commissioned warship in the world.
The Victory is also the flagship of the Second Sea Lord and Commander in Chief Naval Home Command.
Vice Admiral Charles Montgomery was present for the handover.
Launched in 1765 at Chatham Dockyard and commissioned into the Royal Navy in 1778, its first commanding officer was Capt John Lindsay.
On 1 December it was announced that the Victory is to undergo a £16m restoration over five years.