Policing the Portsmouth v Southampton derby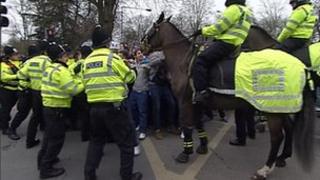 The south coast derby is an eagerly anticipated date in the football calendar but also takes months of planning to police.
Following trouble during previous encounters, Hampshire police have implemented a "coach bubble" to minimise the potential for disorder.
Some Southamptons fans have criticised the fact they must travel to Sunday's match in Portsmouth by escorted coach.
There has been violence at previous encounters in 2003, 2005 and 2010.
Supt Rick Burrows, in charge of the policing operation, said: "The passions these games generate have historically led to some horrendous violence over the years."
Twelve people were jailed following violence in Southampton when the teams last met in February 2010.
'Opportunities for disorder'
Supt Burrows admitted there was a need to try some new tactics. The "coach bubble", in which away fans are all bussed into a so-called "safe area" beside the ground, has been used for other similar high-tension derbies including Swansea v Cardiff.
He said: "It denies the opportunities for disorder by denying the face-to-face meetings of the two rival fans across the city. It allows me to focus police resources in key areas rather than spread them about the city.
"The reality of football hooliganism is that it isn't the massively organised groups of the 70s and 80s. There is far greater likelihood of spontaneous disorder if the opportunity arises.
"There will be a significant intelligence-led operation to isolate those individuals who seek to generate the disorder."
However the idea of having no choice but to travel to the game by escorted coach has been criticised by some fans.
Mick O'Callaghan, of Southampton Independent Supporters' Association, said: "It infringes my human rights.
"Why can't I make my own way to a football match and have a pint before the game, like I have for 41 years? Instead Saints fans are being carted around like a load of animals - I just don't agree with it."
'Spurious rumours'
About 250 officers will be on duty for the match. With the costs of policing around the ground being met by the home club, police have described the overall financial burden on the force as "cost neutral".
Another new element to this derby will be the police use of social networks such as Twitter and Facebook. The force has already moved to correct information circulating about road closures.
Supt Burrows said: "We will be running social networks to put out key messages - to shoppers and people around the city. We will also fill any information vacuum and spurious rumours that are spread and setting them straight."
His message to fans on both sides is: "Come along and enjoy a safe an enjoyable football event. For those with other ideas, please don't turn up as you'll be dealt with very robustly."