Fan buses 'prevented trouble' at Portsmouth v Southampton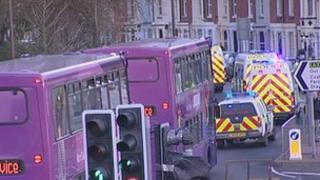 A controversial plan to separate football fans at the south coast derby by bussing in away fans prevented crowd trouble, according to police.
Following disorder at previous Portsmouth v Southampton matches, away fans had to travel to Sunday's match in Portsmouth by escorted coach.
There were no reports of trouble in Portsmouth, although two people were arrested for possessing flares.
Supt Rick Burrows said: "We're really happy with the tactic and the outcome."
Some Southampton had fans criticised the fact that travelling by bus under police escort, in a so-called "coach bubble", was the only option for going to the game.
Mick O'Callaghan, of Southampton Independent Supporters' Association, said: "Why can't I make my own way to a football match and have a pint before the game, like I have for 41 years?
"Instead Saints fans are being carted around like a load of animals - I just don't agree with it."
The two sets of fans were prevented from meeting with a "safe area" for Southampton fans set up behind lines of police, mounted officers and temporary steel barricades. Around 250 officers were on duty for the match.
Supt Burrows said: "No-one was hurt, there was no serious disorder and what there was we managed to jump on really quickly."
He added the return fixture in April in Southampton was likely to see the same tactics employed, but they would be reviewed after current football season.