Georgina Edmonds murder case: DNA expert gives evidence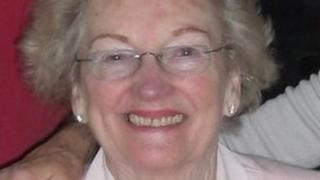 A partial DNA profile on a rolling pin used to kill a pensioner is linked to the accused, a court has heard.
Georgina Edmonds, 77, was found beaten to death in her home in Brambridge, near Eastleigh, in January 2008.
Matthew Hamlen denies her murder.
Winchester Crown Court heard there was a mixture of DNA found on Mrs Edmonds' rolling pin.
Some of it belonged to her and some of it to other people, the jury was told.
Forensic experts found a partial DNA profile which the prosecution alleged was a link to 33-year-old Mr Hamlen, of Bishopstoke.
Prof David Balding said it was 2,500 times more likely that the sample was contributed to by Mr Hamlen and a person unrelated to him, than that it came from a male unrelated to the defendant.
'No explanation'
The court had previously heard that he could not explain why he was forensically linked to the rolling pin.
Jurors heard how when Mr Hamlen was asked by police if he had an explanation, he replied: "None whatsoever."
Earlier in the trial jurors heard Mrs Edmonds was stabbed several times with a knife by her killer, who tortured her to force her to reveal her bank card Pin number.
She was also hit over the head with a marble rolling pin from the kitchen where her body was found.
The prosecution alleges Mr Hamlen tried to use the card and was captured on CCTV wearing a hooded fluorescent jacket.
The prosecution has finished its evidence and the jury will sit again in January when the defence case will be heard.
Correction 18 January 2012: This report has been amended to clarify the likelihood that the DNA sample may have been contributed to by Mr Hamlen.