High Court date for landlady in TV football rights battle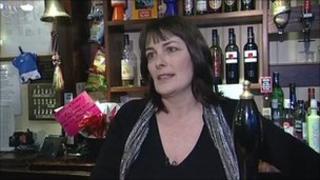 A Hampshire pub landlady prosecuted for showing Premier League games using a foreign TV decoder will have her case considered by the High Court.
Karen Murphy had to pay nearly £8,000 in fines and costs for using a cheaper Greek decoder in her Southsea pub to bypass controls over match screening.
A hearing date has been set for 24 February after she won backing from the European Court of Justice in October.
Sky and ESPN have exclusive UK rights to show live Premier League matches.
Advocate General Julie Kokott, from the European court, said blocking the right to use cheaper decoders to screen matches breached EU single market rules.
But the Premier League said if the advocate general's opinion was adopted it "would damage the interests of broadcasters and viewers of Premier League football across the EU".
Breach of copyright
Using the Nova service, Ms Murphy paid £118 a month, rather than £480 a month with the official broadcaster, to show games in the Red, White and Blue pub.
She was prosecuted for breach of copyright laws by the Football Association Premier League Limited (FAPL), which represents the broadcasting interests of the 20 English Premier League clubs.
As well as paying the fines and legal costs, Ms Murphy has not been allowed to show live football since.
She said the legal fight had taken up "quite a chunk of my life".
The High Court hearing on 24 February will decide if the recent European Court ruling can be applied to Ms Murphy's appeal.
She has had several appeals thrown out in the past.