Queen Mary 2 'drifted' after explosion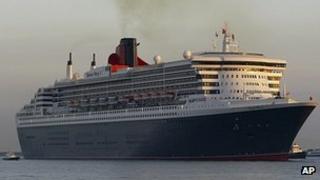 An explosion in a main electrical switchboard room caused the Queen Mary 2 cruise liner to lose power, according to a marine accident report.
The Southampton-based liner drifted in open sea for about an hour following the blast in September 2010.
The Marine Accident Investigation Branch (MAIB) report said it was triggered by deterioration in the capacitors, which store energy.
No-one was injured in the incident which happened near Barcelona.
The report said: "A current imbalance detection system, which was the only means to warn against capacitor deterioration, was found to be inoperable, and it was evident that it had not worked for several years."
It said it was fortunate the 150,000-tonne vessel was clear of navigational hazards at the time.
Following the explosion, the emergency generator started automatically. The main generators were restarted and the ship was able to resume sailing.
The MAIB said that since the incident action had been taken by Cunard's parent company, Carnival.
It also made recommendations to Lloyd's Register and the Maritime and Coastguard Agency.