Southampton clock to chime in new year again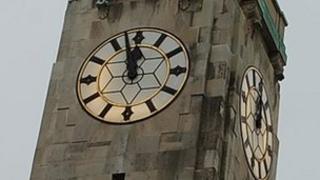 The nine bells in Southampton's Civic Centre clock tower will chime at midnight on New Year's Eve for the first time in more than 10 years.
The clock, which chimes on the hour earlier in the day, has been silenced after 22:00 since the 1990s to avoid disturbing residents.
It has been fitted with a mechanism to make it chime only at midnight on New Year's Eve.
It is hoped the clock will become a focal point for revellers.
The clock tower is in the Hampshire city's newly-designated "cultural quarter".
Royston Smith, leader of Southampton City Council said: "It's the cultural quarter, where else would people like to congregate on New Years Eve, but that fantastic open space?"
The bells in the 155ft (47.5m) clock tower sound Sir Isaac Watts' hymn, "Oh God Our Help in Ages Past" every four hours and chime every hour - up to 22:00.
The upgrade has been carried out during annual maintenance of the timepiece and funded though the £15m overhaul of the Civic Centre.