Award-winning medical bus available for Southampton revellers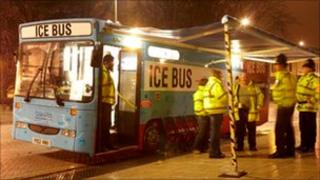 A mobile medical centre that helps revellers on nights out in Southampton is available over the new year period.
The ICE - In Case of Emergency - bus is operated by the city council and South Central Ambulance Service.
The bus provides medical help for people with often drink-related injuries and issues on Saturday nights.
The project recently won recognition from the Home Office Tilley Award, as part of the city's overall crime prevention initiatives.
The ICE Bus aims to reduce demand on accident and emergency services by providing treatment to patients injured or ill in Southampton city centre.
Ambulance staff in the bus provide basic medical care and a team of welfare workers offer advice and help people to get home.
The bus is operating on additional dates though the festive period including New Year's Eve between 2200 and 0400 GMT.