No heating for Hampshire family after wireless glitch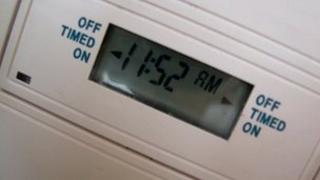 A Hampshire family said their Christmas was spoilt after the wireless devices in their home stopped working.
Chris Smith from Kingsclere was baffled when his heating, shower, doorbell and remote car lock refused to work.
He spent more than £250 trying to fix the heating and shower on Christmas Eve but neither worked until Tuesday.
Ofcom said the problem may have been caused by interference from a faulty device in the neighbourhood.
'Cold and smelly'
Mr Smith, whose wife's birthday was on Christmas Eve, said he spent most of the day reading manuals and making phone calls in an effort to get the heating fixed in time for Christmas Day.
Although the boiler was running, the wireless thermostat on the heating system and the digital shower stopped working.
He said: "It was a rather cold and smelly Christmas."
One engineer who came to the house in Ash Grove had to move his van 100 metres up the road because his key fob also stopped working.
A spokesman for Ofcom, which oversees radio communications, said: "Often these problems can be caused by a video sender - that transmits a television signal to other sets in the house.
'No coincidence'
"They are not the source of all the problems but in a lot of cases interference is tracked down to those devices."
Mr Smith, who had the heating system installed 18 months ago, said he did not know of anyone nearby with a video sender but did not think it was a co-incidence that his heating, shower and doorbell began working again late on Tuesday afternoon, at the end of the Christmas break.
In October the residents of Dimond Road, Southampton, reported that their remote car key fobs had stopped working. The problem was tracked down to a faulty video sender which was "leaking" a frequency which interfered with the fobs.
Residents in a street in Windermere, Cumbria, had similar problems in March 2010, which were eventually traced back to a wireless device used to take orders at a nearby restaurant.