Power restored to homes in Hampshire and the Isle of Wight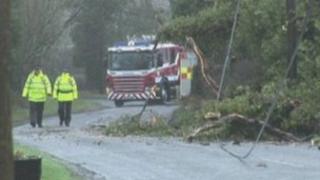 Southern Electric has said it has now restored supplies to all homes in Hampshire and the Isle of Wight which were cut off after Tuesday's storms.
The company said its engineers had worked overnight to help reconnect customers.
Uprooted trees and other debris blown on overhead power lines had been the biggest issue, the firm said.
About 4,000 properties lost power across its distribution area, between the Isle of Wight and Oxfordshire.
Southern Electric spokesman Ross Easton said: "Our engineers have had to battle against very tough conditions, we have had to remove trees from lines and rebuild part of our network, where we've also found additional faults."
Winds of more than 70mph were reported along coastal areas which caused trees to fall.
In Southampton power cables also blew together causing a substation to trip.