Boy accused of theft from Isle of Wight church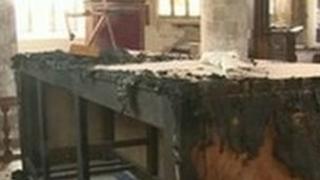 A boy and a man have been charged in connection with a theft from a church on the Isle of Wight.
Two crucifixes were stolen from St Mary the Virgin in Carisbrooke and the altar was set on fire on 27 November. It was the third attack in recent months.
A 28-year-old Newport man has been charged with handling stolen goods. The boy, aged 15, was charged with theft.
Kevin Williams, 23, of Downsview, Sandown, has already admitted arson and will be sentenced on 17 February.
Williams has been remanded in custody for sentencing at Isle of Wight Crown Court.
The man and the teenager were bailed to appear at Isle of Wight Magistrates Court on 17 January.