Captain announced for Olympic boat voyage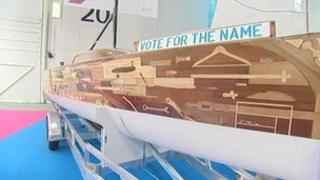 A sailor from Hampshire is to take command of an Olympic boat built from wooden donations.
Mike Barham, from Gosport, will be at the helm of the 30ft yacht which is due to sail along the south coast during the 2012 Olympics.
The vessel built at Emsworth, near Portsmouth, will set sail in July.
During the Olympic Games, the boat will be on show in Weymouth which will host the sailing events during the Olympics and Paralympics.
More than 1,200 wooden donations have been made into the boat, including a piece of Jimi Hendrix's guitar and a section of Brighton's West Pier.
Gosport-based Captain Mike Barham said: "I started my sailing adventures with 1st Southbourne Sea Scout Troop in Prinstead in 1980, so it's very exciting to be returning to this area for this wonderful project."
The boat will be crewed by five people from Sussex and one from the Isle of Wight who were nominated by their friends and family.
The crew members come from all walks of life, including one experienced sailor, a graphic designer, a teacher and a plumber.
They will begin training with Captain Barham for their journey in spring.
The boat's two-month route will include Portsmouth, Margate, Brighton, Milton Keynes and Hastings.
The vessel, commissioned by the Arts Council, is currently on show at the London Boat Show.