Georgina Edmonds case: Murder accused denies cash motive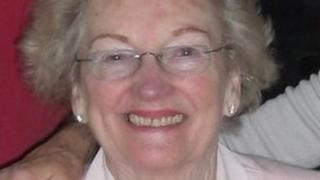 A man accused of the murder of a 77-year-old woman in her Hampshire home has denied a shortage of money would have been a motive for killing her.
Georgina Edmonds was found beaten to death in her kitchen in Brambridge, near Eastleigh, in January 2008.
Matthew Hamlen, 33, of Bishopstoke, who denies murder, told Winchester Crown Court police had "stitched him up".
His defence argued that prosecution claims he had killed her because he was in debt were "fanciful".
Mr Hamlen, a qualified electrician, was asked if he was short of money at the time.
"I've never been hard up," he said. "We'd paid our rent that day. I had been out shopping. I'd gone to the pub. I'd gone to Blockbusters, so no, I was not short of money."
He also said he had used cocaine recreationally, but denied he had a drug habit or problem.
'Unknown and unexplained'
Defence barrister Tim Mousley QC said people who knew Mr Hamlen had described him as placid, hard-working and non-aggressive.
Mr Mousley said whoever had killed Mrs Edmonds had committed a "vile and brutal offence".
He said a great deal of what happened on the day she died remains "unknown and unexplained".
Mr Mousley told jurors they had to be sure that Mr Hamlen had committed the crime.
Earlier in the trial jurors heard Mrs Edmonds was stabbed several times with a knife by her killer, who tortured her to force her to reveal her bank card Pin number.
She was also hit over the head with a marble rolling pin from the kitchen where her body was found.
The prosecution alleges Mr Hamlen was captured on CCTV wearing a hooded fluorescent jacket trying to use her debit card at an ATM in Eastleigh and he was forensically linked to the rolling pin.
Mr Hamlen said the man in the CCTV footage was not the same size as him and had different characteristics.
He accused police officers of "trying to stitch him up" during interviews by saying he was forensically linked to the murder scene.
The trial continues.