Five contract Weil's disease in River Itchen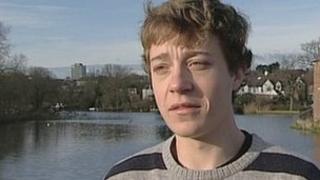 Five people contracted a potentially fatal disease from a Hampshire river.
Two of the five were sent to hospital with Weil's disease - a bacteria also called leptospirosis and spread by infected animal urine - after canoeing on the River Itchen in Southampton.
All five had been told by doctors they had become infected with leptospirosis in November.
The Health Protection Agency (HPA) said only one of the cases had been confirmed with laboratory tests.
Symptoms include high fever, severe headaches and muscle pain and can take up to three weeks to develop.
The infection enters the body through cuts on the skin and through the lining of the eyes, mouth and nose.
It not a "notifiable disease" according to the HPA, which means medical professionals are not required to log any cases.
Only laboratory test results - on the most serious of cases - are recognised as official by the HPA.
Student Doug Clifton, 19, said: "I just thought I had a bad headache but 48 hours later I was in an ambulance."
Mr Clifton, who is a member of Southampton university's canoe club, was the only one of the five who was seriously ill enough to warrant a need for a test.
'Outbreaks do occur'
HPA regional spokeswoman Claudette Malone said: "We have only received notification and can only confirm a single case of leptospirosis in the Southampton area."
An NHS spokesman said the infection was "rare, though outbreaks do occur".
There are 50 to 60 cases per year in England and Wales, according to the HPA.
Olympic rower Andy Holmes died of suspected leptospirosis in October 2010 after competing his last race in Lincolnshire.