Georgina Edmonds case: 'Mum's murder made no sense at all'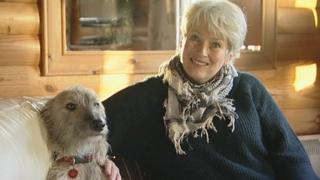 Four years on since her mother was stabbed and bludgeoned to death in her Hampshire cottage, Doddie Edmonds says she still struggles to understand why it happened.
Georgina Edmonds was a 77-year-old widow who lived alone with her two dogs and cat in Fig Tree Cottage in the grounds of her son's estate in Brambridge, near Eastleigh.
Electrician Matthew Hamlen, who lived only a few miles away, stood trial for her murder but has been cleared by jurors at Winchester Crown Court.
The person who brutally killed Mrs Edmonds remains at large.
On the afternoon of 11 January 2008, the killer entered Mrs Edmonds' home through the kitchen door she often left unlocked and attacked her.
She was tortured with a knife to get her to reveal her bank card Pin number, before being beaten to death her with her own marble rolling pin.
The attacker stole Mrs Edmonds' credit card and mobile phone, locked the door and headed for the towpath which runs beside the cottage and the River Itchen.
Her son Harry and a groundsman discovered her body in a pool of blood on the kitchen floor a few hours later.
Mrs Edmonds' daughter Doddie said she would never understand why her mother was killed in such a brutal and violent way.
"It was like something dying inside me, and absolute bewilderment - really not believing it one minute and then being absolutely bereft the next," she said.
"I was baffled and amazed, but gradually over the days and weeks, more and more detail came out of how terrible the murder was.
"I just could never believe anyone would want to do that to my mother, or anyone, but particularly an elderly person.
"It made no sense at all, because my mother was the sort of old lady who you would want to put your arms around and look after and protect. She even had a broken foot I think at the time of the murder."
She said the killer "could have just told her to sit in a chair and shut up and grabbed her handbag and gone, so it made no sense".
"I don't really understand what happened or why."
After her mother's murder, Ms Edmonds, who worked as a nurse in Sudan and Kenya for several years, moved back to the UK.
But she said coming back to her mother's cottage had been difficult.
"I think I'd braced myself really, and tried to think about all the good times we'd had there sitting around the kitchen table eating a baked potato at lunchtime, having a laugh," she said.
"We'd had some really good laughs the previous summer. I came over and stayed with her for five weeks and we had some really good, funny times together.
"I tried to think of those but, inevitably, I saw blood on the wall, or thought: 'Oh God, that's where she lay all night dead'."
'Felt so frail'
She said the past four years had been a "roller coaster of ups and downs following the inquiry, hoping for justice", and at the same time missing her mother.
Ms Edmonds described her mother as "very warm, friendly, bubbly, hilariously funny".
"She could tell great stories," she added.
"She was just a very loving, kind, dear person."
Ms Edmonds, who now works as a nurse in West Sussex, added: "The last time I hugged her goodbye she just felt so frail and little and elderly and I just wanted to hang on to her."
The Edmonds family made its money in the coffee import trade. Mrs Edmonds' late husband Harry set up the Edmonds Group, which is now run by their son Harry.
Harry Edmonds Senior died more than 20 years ago. Mrs Edmonds later moved from the larger house on the estate and into the smaller cottage, letting her son and his family take over Kingfisher Lodge.
Her son used to visit her in the cottage most days and she enjoyed seeing her two grandchildren.
Ted Whieldon, who runs a shop in nearby Otterbourne, used to deliver groceries to Mrs Edmonds once a week.
"It was always a great pleasure to go and see her, she was a delightful person, always had a lovely smile," he said.
'Very, very trusting'
"On occasions I'd go and she wasn't in the house but the dogs were there - they were friendly little chaps - and I used to pop in.
"The door was always open, never locked. She was so very, very trusting, it was unbelievable."
The murder also shook the wider community around Brambridge, Otterbourne and Eastleigh.
Det Insp Guy Robyns said: "There are a lot of people there who live on their own, probably much in the same position as Georgina Edmonds."
He added there had been "a lot of concern" in the years that followed Mrs Edmonds' death about when the killer might be caught.
Following Mr Hamlen's acquittal, Hampshire Constabulary said unsolved murders were "never closed" and the investigation would be reviewed.
"Our thoughts are with Mrs Edmonds' family and members of the local community who still seek some form of closure and to see justice done."