Hampshire Spanish sparrow attracts scores of twitchers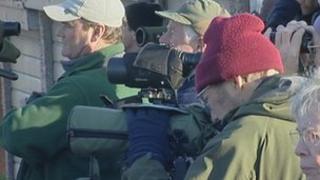 In countries such as Spain, Turkey or North Africa it is quite a common sight.
However a Spanish sparrow, spotted in the coastal Hampshire village of Calshot, is one of only eight seen in the British Isles since records began.
Garry Bagnell was among some one hundred avid twitchers who came to Calshot on Wednesday to try and catch a glimpse of the bird.
He said thousands of twitchers could flock to Calshot this weekend.
Keith Betton, the county recorder for Hampshire Ornithological Society, said: "It's exciting - a first for Hampshire.
"The sparrow is living happily here with other house sparrows."
Calshot residents are already bracing themselves for the arrival of more bird-watchers.
They plan to set up stalls selling tea and cakes in the village hall, with all profits going towards charities such as the RSPB.
'Quite relaxed'
Resident Vivien Drake said: "I actually think it's really nice, and people are so far quite relaxed about it.
"People so far haven't been going into gardens."
Police have put up cones to stop people parking on grass verges, and are hoping to avoid too much disruption.
Mr Bagnell, 44, said hundreds of bird-watchers had been in the village on Tuesday and Wednesday.
"All the newcomers to birdwatching will be desperate to see this," he said.
"You never know how long a bird will be around for. On Wednesday, we saw a sparrow-hawk go across in the sky.
"That could just decide to eat this sparrow and that would be the last time we would see it."
According to Mr Bagnell, there are 20,000 twitchers in Britain, many of whom will hire boats, charter planes and spare no expense to add to their collection of rare bird sightings.
He said the most recent Spanish sparrow sighting in Britain was in 2000 in Cornwall, where the bird was only seen for one day.
Previously, a Spanish sparrow spotted in Cornwall in 1996 stayed around for two years.