Man in PM's constituency forced to live 'like animal'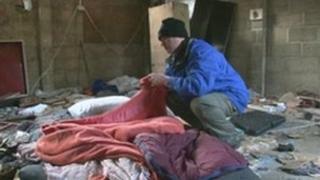 A homeless man in David Cameron's Oxfordshire constituency claims he is being forced to "live like an animal" after his tent was removed by police.
Justin Hicks, 35, has slept rough ever since he lost his home in Witney following the break-up of a relationship last year.
Community group We Are Witney bought Mr Hicks the tent, which he pitched in woodland last week.
But the tent was removed by community police officers on Tuesday following complaints about litter.
Mr Hicks has now returned to sleeping in a derelict shed that he describes as "cold, damp and dangerous".
'Public toilets cleaner'
"I believe dogs could live a better life than what I have at the moment," he said.
"My ambition in life is to have a job and have a home. I'm desperate to do that and be part of society instead of living like a rodent.
"The public toilets are cleaner than where I am sleeping."
Community worker Richard Mackenzie, 32, organised the purchase of the tent after Mr Hicks told him he did not qualify for emergency council accommodation as he was not vulnerable enough.
He said: "If this is true, it's disgusting. Justin has his problems but we are all only a few steps from being made homeless.
"He wants to go back to work as a plasterer and he wants a roof over his head."
In a statement, Thames Valley Police said: "We were called by Windrush Leisure Centre, who had concerns about the amount of litter and an unoccupied tent on nearby land.
"Officers attended and there was nothing to identify the owner of the tent so it was taken down and left for the council to collect."
Mr Hicks said: "It seems like there's one man in the community behind me, against the police establishment who want to bring a person who is on their knees and still want to strangle them.
"This is the best Witney can offer me - it's the only shelter I have. It's cold, damp and dangerous.
'Born and bred'
"I don't feel part of society. I'm sleeping like an animal."
He added: "I don't deserve more than the next person but I was born and bred here so I should at least be housed."
Lesley Sherratt, head of housing at West Oxfordshire District Council, said: "We have referred Mr Hicks to several accommodation and support services who we felt could assist him, but he has not yet engaged with these services or come back to us for further help.
"We are happy to do what we can to assist him further and we would like him to contact us."