Hampshire Constabulary tops Stonewall gay-friendly list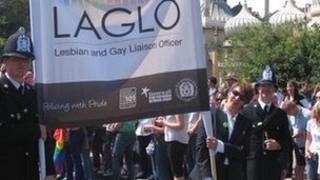 Hampshire Constabulary has been named the most gay-friendly police force in Britain for the second year running.
It was listed 14th in the annual Workplace Equality Index Top 100, published by Lesbian, Gay and Bisexual (LGB) charity Stonewall.
Insp Julie Fry, of the force's Lesbian, Gay, Bisexual and Transgender Resource Group, said she was "extremely proud".
Topping the list was law firm Ernst & Young, with the Home Office second and Barclays third.
Other high performers in the policing sector were South Wales Police, British Transport Police, North Wales Police and Merseyside Police.
Evaluation criteria for entrants include the number of senior and visible LGB staff within organisations, the policies for tackling workplace discrimination, and the staff training used to educate staff about LGB issues.