Ex-army major John 'Sid' Trench becomes PGA pro golfer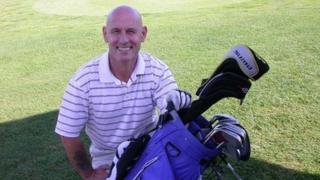 Throughout his tours of Iraq, Bosnia and Kosovo, Major John Trench ensured he still made time for his favourite hobby - even if it meant cramming a tube of golf balls, a couple of golf clubs and a piece of astro turf in with his other vital equipment.
Royal Artillery soldiers became accustomed to hearing golf balls pinging off burnt-out Russian tanks in Iraq as their major put in some practice.
Now, at the age of 54, Maj Trench, also known as "Sid", has become a fully-qualified golf professional.
Maj Trench, from Basingstoke, Hampshire, originally joined the army aged 15 and caught the golf bug after picking up a seven iron at the age of 25 during downtime on a tour of duty.
Five years later he was made captain of the army golf team and later reached a zero handicap in the sport.
"In Basra the only time I could play was at 18:00 because it was so hot but I could only play for 45 minutes before it went dark," he said.
"I used to go down to the airport and hit balls at burnt out Russian tanks."
However, he said the prospect of becoming a PGA professional only became a reality as he began to contemplate retirement.
"As a career soldier nearing 50 it was time to think about my family," he said.
'Great unknown'
But he said the new career choice "raised a few eyebrows", as he was much older than other golfers wanting to become professional.
"It was the great unknown," Maj Trench said.
"I joined the army aged 15, I've never had a job interview, and I've never been turned down as the army always encourages you to try your hand at anything."
However, he said his family motto was "We don't do failure" and with that in mind he continued practising as often as he could.
He passed the Professional Golfers' Association (PGA) playing ability test after having to play two rounds of golf under competition standards.
His latest achievement might be achieving full PGA membership, but Maj Trench had already been active at his local golf club, setting up a successful junior academy.
He also launched projects at two Basingstoke colleges and is also setting up a clinic for the National Autistic Society.
He said his life now, in his post-army days, was "very privileged".
"Every day is a golf day," he said.
"I am living the dream."