South West Trains delayed after cable theft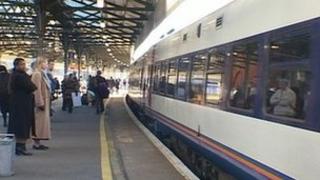 A rail company director has called for tougher sentences for cable thieves after thousands of passengers experienced disruption in Hampshire.
More than 20 electrical cables were stolen on Monday evening. Repairs continued into Tuesday's rush hour.
Richard O'Brien from Network Rail said: "Police must be given powers to shut down rogue scrap dealers profiting from the travelling public's misery".
The theft in Winchfield disrupted trains between Basingstoke and Woking.
Mr O'Brien, the company's route managing director for Wessex, added: "We continue to support proposed legislation for tougher sentences for cable thieves [who are] costing the rail industry millions of pounds a year, which is money we would otherwise spend on improving and maintaining our railway."
Jake Kelly, customer service director for South West Trains, said: "We are extremely frustrated that our passengers' journeys have been disrupted again this morning and we are sorry for the inconvenience this has caused."
Delays were made worse by the discovery of a hairline crack in a track outside Waterloo station, which will keep one track out of use until it is repaired overnight.
Network Rail said 1,464 trains have had to be cancelled across the UK due to cable theft since April.
This is compared to 1,430 from April 2010 to March 2011, and 1,345 in 2009/2010.