Southampton's tallest building plan recommended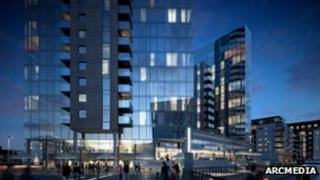 A planning application for what would be Southampton's tallest building has been recommended for approval by the city council.
Allied Developments wants to build the 80m (269ft) tower, with 299 homes at Admiral's Quay in Ocean Village.
The £74m scheme includes the 26-storey tower, two smaller blocks and about 2,800 sq m (30,000 sq ft) of retail and restaurant space.
It is thought the development could create up to 200 jobs.
Leader of the Conservative-led council Royston Smith said: "This is fantastic news. Ocean village will finally be able to live up to its potential, and combined with the plans for Royal Pier, Southampton's waterfront will be comparable to any in Europe.
Peter Morton, from Allied Developments, said: "Southampton's waterfront will become a true destination over the coming years and it's wonderful to be a part of that."