Totton industrial fire spotted by police officers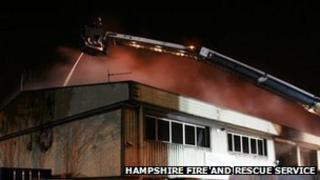 About 60 firefighters have tackled a large blaze in Hampshire after police officers spotted smoke rising from an industrial unit while on patrol.
They raised the alarm at about 01:30 GMT and fire crews were called to Calmore Industrial Estate in Totton.
Crews fought the flames from an aerial ladder platform and managed to contain the fire to the unit, which operates as an industrial dry cleaners.
An inquiry has begun but police said it appeared to have started internally.
Group manager Dan Tasker, from Hampshire fire service, said: "Upon arrival I could see flames above the roof of the building.
"Firefighters gained access to the premises using specialist cutting equipment and crews ventilated the premises.
"The blaze was tackled using a combination of dowsing the flames from above... and traditional methods on the ground.
"Firefighters worked extremely hard to contain the fire to the unit of origin and did a sterling job in stopping the fire from spreading to the neighbouring two units."