Brockenhurst level-crossing woman drives along tracks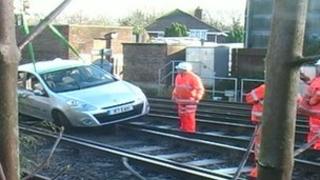 An 85-year-old woman drove down a train line for 80 yards (73m) after accidentally turning on to the tracks at a level crossing in Hampshire.
The woman was driving towards Brockenhurst station in the New Forest when she turned on to the track between Bournemouth and London Waterloo.
She stopped her car and called for help at about 09:30 GMT. She was treated, along with her passenger, for shock.
The incident caused rail delays and a bus replacement service was set up.
The car was later removed by crane.