David Cameron backs tax meeting with Portsmouth FC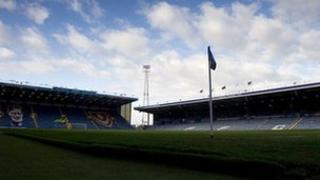 The Prime Minister David Cameron has backed calls for HM Revenue and Customs (HMRC) to meet with Portsmouth Football Club to recoup taxes owed.
Pompey failed to pay their players last month and the club have had bank accounts frozen after the issuing of a winding-up petition on 3 January.
Penny Mordaunt, MP for Portsmouth North, raised the issue at Prime Minister Questions in the Commons.
The club will appear at the Royal Courts of Justice on 20 February.
Ms Mordaunt said: "If a local supermarket closes down another quickly opens and takes its place.
"If Portsmouth Football Club closes down the Pompey fans will not be content with buying their season tickets from Southampton.
"Will the Prime Minister add his voice to mine in calling for HMRC to meet with the club so it recoups the taxes it is owed, so that our club survives and that the fans have their chance to become its owner?"
'Friendly rivalry'
Mr Cameron replied: "I will certainly do that and I think she's absolutely right to raise this issue.
"Knowing one or two Pompey fans I can certainly understand the idea that they could go and support Southampton is completely incredible and we must do everything we can to keep this friendly rivalry going."
Pompey's parent company, Convers Sports Initiatives, entered administration in November, forcing the Championship club to search for new owners.
Administrator Andrew Andronikou revealed that Pompey have missed two tax payments of £800,000 to HMRC.
There is an urgency to complete a deal with fresh backers as investment is needed if Portsmouth are to meet ongoing running costs.
The Portsmouth Supporters' Trust met with local businesses on 26 January in an attempt to form a consortium to help save the Championship club.
The club is now seeking a validation order from the court to have its bank accounts unfrozen so staff wages and suppliers can be paid.
For Portsmouth to gain that validation order they will have to convince the court that ordinary creditors will not lose out by allowing the club to keep using its bank account.