Portsmouth FC winding up would be 'utter disaster'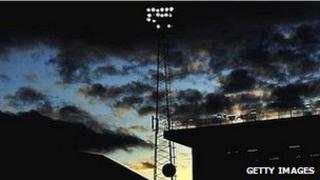 The winding up of Portsmouth Football Club would be an "utter disaster" for the city, according to the Pompey Supporters Trust.
Pompey could face extinction in days after the club was issued with a winding up petition by HM Revenue and Customs over unpaid tax.
Trust spokesman, Scott Mclachlan, said: "I don't think the majority of the city could imagine not having the club.
"Pompey brings in millions of pounds a year in revenue."
Mr Mclachlan said: "A football club gives you a sense of belonging, it ties you to your city or area.
"It's very tribal, as our rivalry with Southampton proves. It defines who you are.
"The city's identity would be missing.
"When you mention Portsmouth to people around the country they immediately associate it with the football club and the navy.
"Take one of these away and it has a huge impact on the city's identity.
"It would be an utter disaster for the city if the club folded."
'Poisonous vine'
Pompey's parent company, Convers Sport Initiatives (CSI), entered administration in November, forcing the club to search for new owners.
CSI's administrator Andrew Andronikou revealed last month that Pompey have missed two tax payments of £800,000 to HMRC.
Portsmouth will attend the Royal Courts of Justice on 20 February to fight the winding up order.
But Mr Mclachlan fears the famous old club's chances of retaining its professional status are diminishing by the day.
He said: "The fans are downtrodden and there's a sense of impending doom.
"The club is bankrupt, it can't pay its tax bill, or the wages of its players and staff.
"It has no way of supporting itself so it will have to go into administration which immediately brings a 10 point penalty which puts us into a relegation battle.
"You wouldn't believe some of the scenarios at the club, it would make a wonderful book. The club is being strangled by a poisonous vine of debt."
'New club'
It is a saga that began in 2009 when the club was forced to sell off their best players as the true extent of their financial problems surfaced for the first time.
Failed takeovers, administration, relegation, winding-up petitions, managerial departures and further player exits have since followed in the space of three troubled years.
Italian businessman Joseph Cala recently declared an interest in buying the club and claims he would pay off the £1.6m tax bill immediately.
The BBC understands any purchaser would need to provide £12m as proof of funds and assurances they could meet another £20m in repayments to former creditors, Balram Chainrai and Alexandre Gaydamak.
But when the trust, which has about 1,300 members, approached the club's administrators they were told they would need proof of funds of £100m.
As a result, the trust now has a 'Plan B' in place, to be implemented should no buyer come forward and the club is wound up.
"We would have to create a new club from scratch and it would be community run", Mr Mclachlan said.
The club would have to reapply to the league and start again, either in League Two or non league.
Mr Mclachlan continued: "Plan B is a fall back, it's not the preferred option, but if the club is wound up we'll have everything in place to build the club back up again.
"It's impossible to say who would own what. The idea is that as a community club it would be owned by the fans, local businesses and anyone who has an interest in it."
'Fighting back'
Mr Mclachlan would like to see the FA take a stronger stance on their 'fit and proper persons' test on owners of clubs.
He said: "The business of football is at fault. Portsmouth won't be the only club in trouble. There are other Championship sides in huge debt."
But Mr Mclachlan believes there is a "glimmer of hope".
"The trust movement is fighting back. Clubs that were in trouble are sorting themselves out through the community movement."
Pompey supporters had hoped to pack out Fratton Park on Saturday for the game against Hull City for what was feared could prove to be the final home Saturday fixture in the club's 114 year history.
Mr Mclachlan said: "Everyone was geared up for Saturday. We were expecting a raucous atmosphere but the weather did it in."