Havant landlord revives Leigh Park estate's shops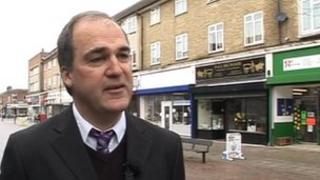 A landlord has been reviving his local high street - by buying empty shops and renting them out.
Mark Smith began buying units in Leigh Park, Havant, Hampshire, in 2010 - some had been boarded up for 23 years.
Now he has 10 properties in total, seven of which are already trading successfully. The remaining three are due to open in the coming weeks.
Mr Smith said he bought the properties at a competitive price so he could offer tenants cut-price rents.
He said: "I purchased them at reasonable prices and I'm able to offer them at about half the price that existing landlords are offering.
"Landlords need to adapt. Shopkeepers need to adapt. They need to be flexible in their approach. It's very straightforward really.
"The local community is very large. We are the second largest housing estate in Europe and I know the communities here.
"The council has spent a lot of money on infrastructure. If we fill the shops up then people will come."
'Low overheads'
Woody Boucher runs a mobility aids shop in Park Parade and moved into one of Mr Smith's shops in October.
He said: "I used to do the Leigh Park market on a Thursday. One day I bumped into Mark and he said he was going to buy some shops.
"The rent is very good here. When you are starting a new business you need to keep the overheads low. Business has been great."
The burgeoning success story at Leigh Park is in stark contrast to the gloomy predictions for high streets across the rest of the UK.
A report by the Local Data Company (LDC) has predicted a rise in the number of empty shops in 2012.
According to the report, 14.3% of shops across the UK were empty in 2011.
Mr Smith said he had been approached by other landlords asking how he had managed to rent his properties.
"I am very proactive. I'm not an absent landlord.
"Adapting the high street is not that simple it needs good shops to attract people in.
"The community has to support the high street.
"Tenants have to adapt - perhaps have a web presence as well. There are a number of factors.
"The difference here over the last six months has been vast. I've had a lot of comments from a lot of pleased people.
"To see some shops that have been boarded up for 23 years and tenants going in there and succeeding and saying they are busy - I am very, very pleased.
"It goes to prove that the high street can be successful, it just need to be aware of how to be successful."