Rope swing death was 'game gone wrong'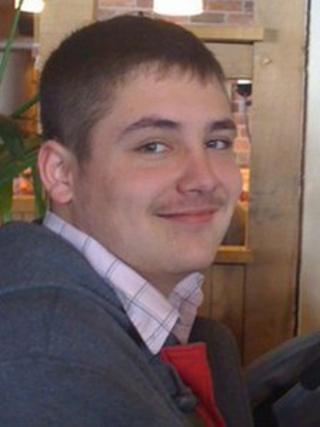 A teenager who accidentally hanged himself was one of a number of children who played a dangerous game with a rope swing, an inquest heard.
Joshua Twigg, 16, was found by his 18-year-old twin brothers next to a swing attached to a tree near his home in Havant, Hampshire, on 23 May 2011.
The inquest heard that children would put their heads through the rope swing to see how long they could endure it.
The boy's mother said she hoped it would act as a warning to others.
Det Con Louise Daniels of Hampshire Constabulary told the hearing that Joshua had previously been seen putting his head through the rope and had told his brother that he could go to sleep in that position.
His brother had warned him against doing it but Joshua laughed it off.
She said: "There was no indication Joshua was depressed or suicidal, Joshua was a happy young man with great plans for the future."
His stepfather had tried to revive him but he was pronounced dead at hospital. The cause of death was hanging.
Portsmouth coroner David Horsley recorded a verdict of accidental death and said: "Although we can't say exactly how it happened or what Joshua was really doing at the time, it was some kind of experiment or game that has gone wrong.
"He may have lost his footing, but when it has gone wrong, there's no way back.
"We can't stop children from swinging on trees. I could contact the council but they can't be there all the time. Swings are there for children to have a good time.
"As long as there are trees, there will be children putting up swings and people doing silly things. I just wish Joshua's death could put a stop to that."
Speaking after the inquest, Joshua's mother Rizi Matthew, 43, said her son, who was studying catering, had just found his "first love" and had also landed his first job at McDonalds.
She said: "It was a brilliant time in his life, he had turned into a right nice guy. I just want people to know it was a privilege to be his mum.
"I knew it was an accident, I knew he wouldn't do anything silly, he had too much to live for."
She said she hoped Joshua's death would act as a warning to others