Man in hospital after flat fire in Portsmouth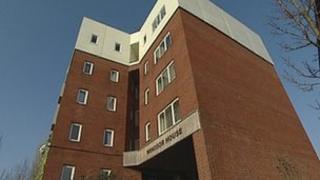 A man in Portsmouth has been taken to hospital for treatment after a flat fire on the third floor of a six-storey tower block.
Four fire crews were called Windsor House, Canal Walk, earlier.
Fire officer Jason Avery said a breathing apparatus team had searched the flat and had managed to rescue a man from the property.
Firemen also found a white parakeet and two African Grey Parrots dead in the property but saved a tortoise.
The fire is thought to have started in the flat's lounge.