Rare submarine love token on display at Gosport naval museum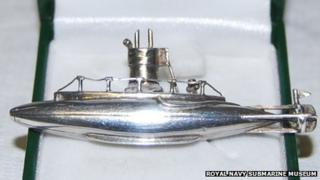 A rare submarine-shaped brooch has gone on public display after a museum archivist discovered it on an auction website.
George Malcolmson, of the Royal Navy Submarine Museum in Gosport, Hampshire, said the silver love token, made by Liberty, was of "exceptional quality".
The 1909-dated piece is believed to have been commissioned by a serving submarine officer for his beloved.
The brooch will form part of the museum's Valentine's Day exhibition.
Toothbrush handles
Mr Malcolmson said he "jumped" when he spotted the brooch for sale on eBay.
He said the "tiny" item, no longer than a match stick, was unusual as it was in the shape of an early C class submarine and had probably been specially commissioned at the luxury department store.
It was more common for submariners to make love tokens by hand during long stretches at sea.
"People had time on their hands on submarines and were always fashioning things," said Mr Malcolmson, who said he had previously seen brooches made from toothbrush handles and silver spoons from the officers' mess.
He said it was also unusual for the submarine brooch to be made in solid silver, as there were gold versions produced in large numbers.
Mr Malcolmson paid £1,200 for the brooch, which he had been bidding for against Liberty silver collectors.
"It's very rare," said Mr Malcolmson, who has researched naval social history for the past 25 years.
"From a museum point of view it's a personal item and social history is a very big thing."
He added that nautical-themed jewellery was fashionable during the Edwardian period.
"It was the done thing to be recognised as being the sweetheart of a naval officer".
The item is currently on display in the recent acquisitions section, but will form part of a small Valentine's exhibition of naval love tokens, which includes handkerchiefs and dolls.