Andover avation museum's bronze eagle stolen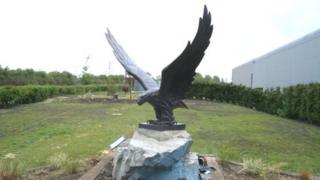 A large bronze statue of an eagle has been stolen from a memorial garden in Hampshire for fallen Army Air Corps servicemen and women.
The eagle is worth about £9,000 and was taken from the Museum of Army Flying in Middle Wallop, near Andover, between Friday evening and Saturday morning.
The 100kg (15.7st) centre-piece was unveiled in 2009 and had a wing span of about 1.5 metres (4.9ft).
Hampshire Constabulary said it was appealing for witnesses.
PC Lisa Wearn said the garden is adjacent to the "busy A343" and she was "particularly interested to hear from anyone who was on that road or driving that way who may have seen anything suspicious".