Southampton City Council agrees to axe 200 posts as budget set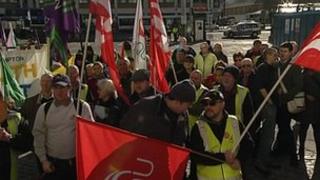 Councillors in Southampton have agreed to axe 200 posts as £14m worth of cuts were approved in next year's budget.
Workers staged a protest outside the city's Civic Centre before councillors attended the meeting on Wednesday.
Ninety-nine jobs across departments including health and social care and transport will be lost, mostly to voluntary redundancies.
The remainder are vacant positions which will not be filled. Councillors also agreed to freeze council tax.
Last year it introduced new contracts which forced council workers earning more than £17,500 to take a pay cut of up to 5.5%.
The Conservative-led council also plans to cap staff redundancy payouts as it tries to save £54m in three years.
Since the plans to make changes to pay and conditions were implemented in July, unions Unite and Unison and the council have been locked in a dispute.
Workers, including refuse collectors, parking enforcement officers, toll bridge collectors and social care staff, have been taking strike action since May last year.
Protected jobs
Ian Woodland, Unite regional officer, said: "Our members are still very determined to continue the fight to maintain their living standards.
"What is sad is that the unions presented the city council with an alternative plan which would have saved services, jobs and retained pay. However, this has been repeatedly rejected."
Royston Smith, leader of Southampton City Council, said: "I understand that people are entitled to, and ought to, make their views known.
"But we have to remember that by taking that action early last year, which was painful for those involved, we protected 400 people who are now in work, who otherwise may have been out of work.
"You only have to look at the local authorities which lost hundreds, if not thousands, of posts.
"Southampton City Council's fared very much better than that."
The unions plan another strike and demonstration for 10 April, the day the Sea City Museum is due to open.