Farmer Ian Rook died trying to calm bull in Hampshire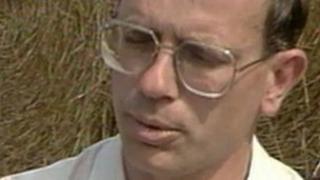 A farmer died in hospital after being thrown into the air by his bull, an inquest has heard.
Ian Rook, 58, from Manor Farm, Clanfield, Hampshire, was trying to calm the bull after it had been moved to a new field in November 2010.
He tried to stroke the animal but the bull tossed him in the air, then repeatedly charged at Mr Rook as people threw sticks to try to make it stop.
A verdict of accidental death was recorded.
Mr Rook, who was county chairman for the National Farmers Union (NFU), approached the bull because it was snorting loudly.
The inquest heard Mr Rook was an experienced farmer who would often approach bulls and scratch them behind the ears.
But on this occasion the bull did not recognise him as he was wearing heavy clothing and a red fleece hat.
Mr Rook suffered severe chest injuries from the attack and died later in the Queen Alexandra Hospital in Portsmouth.
The NFU said: "Ian Rook was very well known throughout the Hampshire farming community and will be sorely missed.
"He was an experienced farmer and this tragedy has come as a real shock to us all."
A health and safety investigation concluded Mr Rook had taken sensible safety measures on his farm to minimise the risks.