Southampton shooting: Two more arrests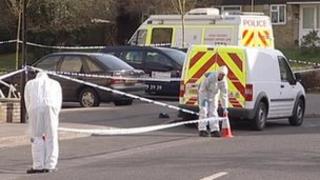 A 15-year-old boy has been arrested following a shooting in Southampton.
A 27-year-old man was shot in the back of the leg and later found by officers in a Tesco supermarket in Bitterne on Sunday.
The teenager, who is from the city, was held on Tuesday morning on suspicion of possessing a firearm without a licence.
A 25-year-old man from London was also arrested on suspicion of attempted murder, officers said.
Three people have now been arrested in connection with the incident.
A 25-year-old man from Southampton who was held on suspicion of attempted murder on Sunday has been released on bail until Wednesday.
The injured man remains in hospital where he is receiving treatment for his injuries, which are not life threatening.
Hampshire Constabulary said a team of 40 officers had been working on the investigation which has taken them outside the county.
Officers are still searching for a handgun and have renewed their appeal for anyone who was in the vicinity of Vanguard Road at 19:50 GMT on Sunday to get in touch.