Coastwatch installs CCTV on Portland Bill lighthouse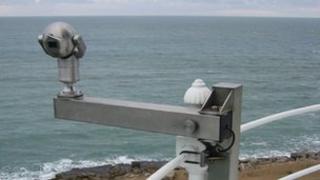 A CCTV camera is being installed to give coastguards a better view - from one of Dorset's already best viewpoints.
Coastwatch volunteers have kept lookout over the dangerous waters around Portland Bill for 15 years.
But, because of the contours of the cliffs, volunteers were unable to see the inshore passage a mile away.
Now, a specialist camera on the balcony of the lighthouse, off the Isle of Portland, will be able to be moved to focus on the inshore passage.
In November, 16 kayakers had to be rescued from strong tides off Portland Bill after they got into difficulty in the inshore passage.
The treacherous bit of water could not be seen from Coastwatch's lookout, which is set back from the headland.
The group from the Upper Hamble Canoe Club, Hampshire, made two mayday calls saying they were in trouble and were eventually rescued with the help of a helicopter and lifeboats from Weymouth.
Station manager Geoff Peters said the new technology would help them spot and avoid situations like that escalating in the future.
"The camera has performed better than expected and has opened up the whole of the area," he said.
"Watchkeepers have been trained in how to operate the camera, panning, tilting, zooming and how and when to operate the wiper for the lens."
Special permission
He said the camera's recorder ran continuously all day and could keep any recordings of incidents volunteers got involved in.
The listed lighthouse dates back to 1905 and special permission was needed from its owners Trinity House to have the camera installed.
After two years of fundraising by the charity, electronics company Bosch came forward to donate the camera.
Coastwatch Portland Bill was originally told it would cost £18,000 to install a CCTV system on the top of the listed lighthouse. But after the company's donation it only needed to spend about £10,000.
The charity will celebrate the official launch of the camera on 6 March with organisations and fundraisers who helped contribute to the project.
"This news was very exciting and made what had been an aspiration into something achievable," added Mr Peters.
The charity mans the lookout in four-hour shifts from 07:00 - 19:00, 364 days a year.
It has 65 trained volunteers and has been nominated for The Queen's Award for Voluntary Service in 2012.