Hampshire County Council's new TV system criticised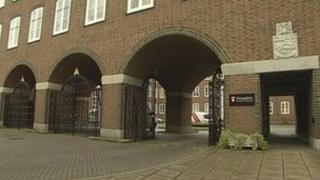 Hampshire County Council has been criticised after spending £205,000 on installing new video and audio equipment.
The first internet broadcast will be of its budget meeting later when it will discuss a £45m package of cuts.
Keith House, leader of the Lib Dems on the council, criticised the upgrade saying it was the wrong way to spend public money in hard financial times.
But Conservative council leader Ken Thornber defended the move.
He said the audio system needed to be upgraded anyway.
'Control the images'
Mr Thornber said: "Half of the £205,000 is from an underspend by members on their own budgets and so we've made that contribution.
"We are being told by the secretary of state Eric Pickles that he wants more and more transparency.
"So while we were fixing our audio system, which was on its last legs, we said, 'well, let's now install cameras so we can webcast' and so that the media can also take cuttings of our broadcasts on our webcasts."
Mr House said: "It's not as if the council is really interested in transparency.
"What they want to do is control the images that are released and they way they're released and that's what's wrong with this.
"If we were living in times of plenty, it may well be the case that this was the right thing to do.
"But we're not. We're living in very tough financial times, we have to make really difficult choices.
Spending [this money] broadcasting the fine words of councillors just isn't up there with the priorities of public spending.
"I really don't believe this is going to be seen by very many people and that's why we challenge this as a good choice of public money."