Gravel dumping angers Hill Head Beach users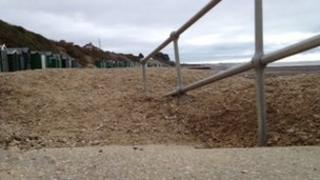 A Hampshire sailing club has been criticised by angry residents after depositing 4,000 tonnes of gravel on a local beach.
It was dredged up to clear a boat channel near Hill Head Beach, Fareham.
But some local people say it has ruined part of the well-known beauty-spot near Titchfield Haven Nature Reserve - a site of special scientific interest.
Hill Head Sailing Club said work was closely supervised to ensure it complied with licence conditions.
The gravel is several feet deep and has covered a 20ft (6m) section of the once sandy beach and steps leading down to it from the sea wall, which is no longer visible in places.
'Could contain bombs'
John Giblett, local yachtsman and Hill Head beach hut owner, said: "I was absolutely devastated when I came down here last weekend.
"I just could not believe my eyes. I thought there were new sea defences being built.
"It's come from the seabed and it's been dredged up, and what it contains we don't know. It could contain fish hooks, glass, even bombs.
"It could well be a health hazard. Children can't go on [the beach].
"I do support the sailing club. I am a well known yachtsman in this area and I've always supported the youngsters in the sailing club.
"But now they can't use their optimists because they can't launch them and do their training where they used to do it.
"You can't walk across it and get to the beach and when the spring tide comes in there's no beach at all."
Hill Head Sailing Club said since concerns were raised it had been making great efforts to level off the slope to make it safer.
Last Sunday 100 volunteers were drafted in to help spread the ballast around on the western end of the beach where it was dumped.