Gosport bail skip man on sex offence charges still at large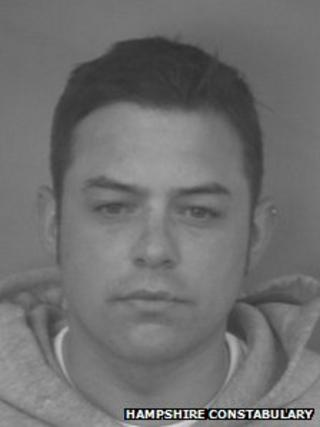 A Hampshire man who skipped bail last year on charges of rape and child sexual offences is still being hunted by police.
Christopher Alan Birch, 31, from Gosport was last reported to be boarding a ferry to Calais in May 2011.
He was charged in 2010 with four counts of rape of a woman and two counts of causing a child to look at images of sexual activity.
The suspect failed to appear at Portsmouth Crown Court on 25 July 2011.
Dragon tattoo
In May 2011 he had also been charged with failing to comply with the terms of his Sexual Offences Registration Order.
Mr Birch, who worked in the catering industry, is described as white, 5ft 7in (1.7m), of medium build, with dark brown hair and hazel eyes.
He has tattoos of MCFC on his left arm and of a dragon on his back. He also has a pierced left ear.
Hampshire Constabulary said he may have travelled to Spain to find employment there and that he has connections to Salford in Manchester.
PC Pete Eggins said: "We have being in contact with our European counterparts who are aware he is wanted by the UK authorities."