Mentally ill people in Hampshire 'locked up in cells'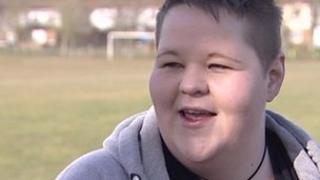 Hundreds of mentally ill people in Hampshire are being locked up in police cells rather than being taken to NHS facilities, the BBC has found.
More than 1,000 people were detained under the Mental Health Act in the past year with 640 taken to cells.
People in custody should be assessed within two hours but in Hampshire the average is more than 17 hours.
Hampshire police said it was making progress to cut waiting times but admitted more needed to be done.
Frances Ayling, who suffers from borderline personality disorder, has tried to take her own life four times in the past year and each time has been arrested and taken to a cell.
She said: "It is literally a metal door, you've got a bed and a metal toilet, that is all you've got.
"You're left there looking at four walls basically, you're stripped of everything you've got on you.
'Really difficult'
"It's quite noisy as you have other people who have been arrested for crime shouting at the police to let them go."
People detained under the Mental Health Act need to be taken somewhere secure for their own safety and the safety of the public.
Guidance from the Royal College of Psychiatrists and other professional bodies says custody suites should only be used to house people with mental illness in exceptional circumstances.
Ch Insp Paul Bartolomeo, from Hampshire police, said progress was being made but there are issues.
He added: "The mental health assessment has to be completed by approved mental health professionals... and medical professionals.
"Sometimes it is getting those two people together to complete the assessment, particularly out-of-hours, which makes it really difficult."
There are currently seven health facilities in Hampshire where police can take people, but many only have one bed to take someone who has been detained under the Mental Health Act.
Southern Health NHS Foundation Trust said it was working hard to improve the situation.
Dr Paul Warren, clinical service director, said: "One of the things that we have been doing is a lot of training both of beat officers and custody suite officers so they make better decisions about where somebody should be brought.
"There are circumstances when we can't accommodate somebody and that might be because there is already somebody waiting to be assessed.
"But it is very unusual that we would have to turn somebody away."