Will Portsmouth's first teenage poet laureate help inspire young people?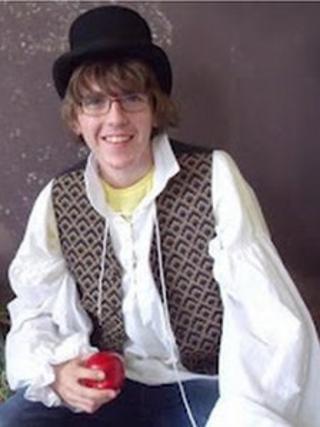 "A Poet locks the fragments of his journal to the inside of his heart."
You would be forgiven for thinking this is an adage from the frenzied brow of Charles Baudelaire, W.H. Auden or perhaps Robert Frost.
It is, in fact, a line penned by a 17-year-old local lad from Portsmouth.
Joe McQuilken hails from a city where only a fifth of its children are reaching expected reading levels.
He has just become Portsmouth's first Young Poet Laureate, with the hope he will inspire local teenagers to swap the touch screen for the pen.
"The city is a massive inspiration for me," said the Havant College student, on how he started writing.
"I used to go walking a lot with my dad and over the top of the hill you'd get this amazing view of Portsmouth.
"Apart from that it's just emotions."
'Passionate'
The Young Poet Laureate post draws on the literary heritage of Portsmouth - where Charles Dickens was born and Arthur Conan Doyle wrote his Sherlock Holmes books - but the more pressing issue is inspiring the city's children.
"Portsmouth hasn't got the best literacy rate in the UK," said Dom Kippin, the city council's literature officer.
"We are working hard to change and improve this, and one of the ways is that there are these outstanding young people who are passionate about writing."
So does Joe buck the trend for Portsmouth teenagers?
Charlotte Comley from The Writers@Lovedean group in Waterlooville said she only gets on average two enquiries from teenagers every year.
Another teenage Hampshire poet, 19-year-old Melissa Collyer, said she has some friends who write poetry but does not know many others.
Mr Kippin believes the post of a Young Poet Laureate is the key to reconnecting disillusioned teenagers with literature.
"To have someone within your peer group to stand up and say 'poetry is great and I write and enjoy it'," he said, "that is probably much more inspiring to a young person."
English teacher Sarah Rance from Horndean Technology College agrees.
"I think this will encourage young people to see how they can use language differently," she said, "and hopefully change their perceptions of English".
'Tough crowd'
Miss Collyer said the new post might give other teenagers "courage" to start writing.
"I think the appointment of the young laureate is inspiring in itself as there are so many teenagers who are creative and can express themselves with words," she said.
Joe already helps to run fortnightly poetry classes at his college - incidentally, mostly attended by males. But he is keen to use his new position to help spread the word of poetry.
"I think it's finding your own personal interest in reading," he said .
"It may be something that 17-year-old guys don't have any interest because of the stuff they have to read at school.
"Young people are a tough crowd to engage with sometimes, but if just one person starts writing then it's worthwhile."
Joe will be visiting local schools and colleges, and will be appearing at forthcoming poetry festivals and events.