Cross-Channel Christopher Reddish yacht rescue 'hampered'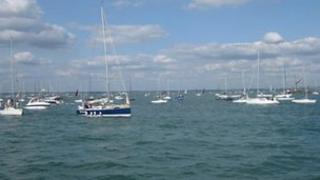 An unsuccessful bid to save the skipper of a yacht who had fallen overboard was hampered as no-one was nominated to replace him, a report has said.
The yacht Lion was taking part in the 95-mile Morgan Cup Race from Cowes on the Isle of Wight to Cherbourg in France on the night of 17 June, 2011.
Christopher Reddish, from south London, fell overboard attached to the vessel.
It took the crew, which was faced with rough seas and winds of more than 30mph, 16 minutes to recover him.
The Marine Accident Investigation Branch report said the initial lack of clarity about who was in charge "hindered communications" during the rescue of Mr Reddish, whose son was also on board and battled to save him.
'Physically challenging'
The report also said not all the crew had taken part in the man overboard drill, conducted six weeks before the race.
It was after a sail that had slipped into the water was recovered that it was noticed that Mr Reddish, 46, from Clapham Junction, had fallen over the port side near the bow 14.5 miles south of Selsey Bill in West Sussex.
He was still connected to the yacht by a tether.
The MAIB report said: "The prevailing conditions made the recovery of the skipper physically challenging.
"No-one had been nominated to replace the skipper if he was incapacitated.
"Initially it was unclear who was in charge which hindered communications."
Mr Reddish was recovered but declared dead by a consultant cardiologist who was one of the crew.
The report said various safety actions had already been taken.
The MAIB also made safety recommendations to the race's organisers, the Royal Ocean Racing Club.
At an inquest in August 2011 into the death of Mr Reddish, his son Alexander had described how he and other crew members had struggled to recover the skipper.
A verdict of accidental death was recorded.