Paedophile-ring members have jail sentences increased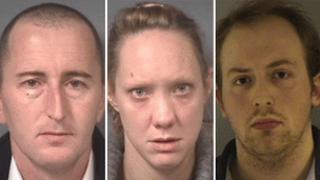 Three people jailed for their part in a Portsmouth-based paedophile ring have had their sentences increased.
Senior judges at the Court of Appeal agreed that Melissa Noon, Robert Hathaway and Simon Hilton's sentences were "unduly lenient".
They were convicted in December of abusing two young children and posting images and videos on the internet.
Ringleader Hathaway's sentence was changed to life and Noon and Hilton's terms were doubled to eight years.
Hathaway, 37, of Portsmouth, had previously received an indeterminate sentence with a minimum tariff of six years. He must now serve at least 10 years.
His partner Noon, 30, also from Portsmouth, and Hilton, 29, of north London, will have to serve a minimum of of four years each.
'Horrific' abuse
The three were among nine paedophiles sentenced in December at Portsmouth Crown Court. They used a nudist website as a guise for their crimes.
Kerry Maylin, prosecuting, described the case as "horrific" and said the victims were "systematically and repeatedly" raped by Hathaway and sexually assaulted on a daily basis.
The abuse was documented with thousands of photographs and videos, some as long as 42 minutes, which were distributed by Hathaway over the internet.
The Attorney General Dominic Grieve had referred the cases on the basis that the penalties imposed in respect of their acts of "extreme and sustained physical and mental cruelty" were unduly lenient.
Judge Lady Justice Rafferty said: "It is difficult to find the words to express the outrage all right-minded people will feel upon hearing of these dreadful deeds.
"Adults debased themselves and, in so doing, traded two children as commodities.
"All these defendants found common cause in debauchery and wickedness.
"The evidence against Hathaway is overwhelming. He paraded his activities so gleefully that proving the offences was, as even he recognised, inevitable.
"Noon contested at least some matters. Noon and Hilton, like Hathaway, have revelled in their activities and used technology devotedly."
'Woefully inadequate'
Hathaway pleaded guilty to 45 offences including child rape.
Noon, who was found guilty of 11 charges including causing a child to engage in sexual activity, had been due to be released later this year after serving nearly half of her four-year prison term.
Barrister for the attorney general, Sarah Whitehouse, said of Noon's original sentence: "It was woefully inadequate and it has to be seen in the context of a backdrop of enduring cruelty to these children."
Hilton pleaded guilty to 13 offences including sexual assault of a child. He was also found guilty of arranging a child sex offence.
He will now have an extended licence period of five years upon release. It had previously been six years.
Afterwards, the attorney general said in a statement: "All cases which involve the sexual assault of children are shocking, but the fact that these offences were filmed and distributed online to others in other countries makes it particularly so."