London 2012: Olympic flag bearer survived Mumbai shootings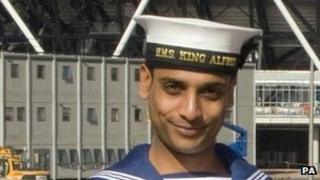 One of the military personnel chosen to be a flag bearer at the London 2012 Olympic and Paralympic Games is a survivor of the 2008 Mumbai shootings.
Navy reservist Lt Harnish Patel from HMS King Alfred, Portsmouth, is among 176 members of the armed forces chosen to raise flags at the medal ceremonies.
The 32-year-old was shot in both legs and suffered shrapnel chest wounds during the attacks in the Indian city.
He was on holiday when a gunman opened fire in the city's Cafe Leopold.
He said, after being "stitched back together" in a Mumbai hospital, he was not sure whether he would ever walk again.
He said: "I had two options - pick myself up or roll over.
"The latter had not been an option and it is a great honour to be selected for this once in a lifetime opportunity."
The flag-bearing teams will consist of six flag bearers and one flag manager who will be present at medal ceremonies during the games.
There will be eight each from the Royal Navy and the RAF, nine from the Army and one overall commander who will sit centrally with the London 2012 team welcome and victory ceremonies team.
Gunmen killed 174 people and injured hundreds more in a series of shootings carried out over three days in the Indian city starting on 26 November 2008.