Southampton's Olympic-sized ice rink plans halted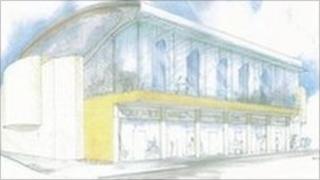 Housing could be built on a site approved for a Olympic-sized £10m ice rink in Southampton.
Site owner, Colin Warburg said the rink's future was uncertain after investor's funding failed and Sport England refused to back the plans.
Mr Warburg said: "It doesn't look very promising at this stage, it's more likely we'll have to do out the site for flats."
Permission for the ice rink was granted by the city council in July 2010.
The previous ice rink in the city, Top Rank in Archers Road, closed in 1988.
'Struggling'
Mr Warburg said he had been trying to formulate funding for the past two years.
He said: "We've been struggling since we got planning, we have looked at other investors but the chances are very slim.
"I was looking at how we could bring the community together and sport, in this case ice, seemed an ideal way.
"I think it's one of the few areas of sport where you can make money."
Plans for the complex in St Mary's Street include a sport hall linked into the university, a cafe and enough space for 850 spectators.
The closest rinks to the city are in Basingstoke and Guildford.