Hill Head beach, Fareham, cleaned up after gravel dump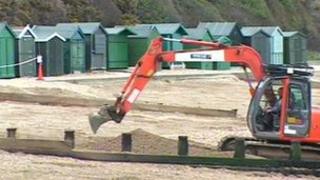 Dredged gravel dumped on a Hampshire beach by a sailing club, covering sand and leaving drops several feet deep, has been cleaned up.
Hill Head Sailing Club left 4,000 tonnes of gravel waste on Hill Head beach, Fareham, when it cleared a channel for boats.
Councillors blamed a "bureaucratic mistake" which meant the gravel was left above the high water mark.
The mounds of stones have now been spread out along the foreshore.
The stones were dredged up last month by the sailing club, which had previously put the gravel on the foreshore between high and low water where the tide can take it away.
This year the club needed a licence from the Marine Management Organisation, but if it put the gravel above the high water line a licence was not needed.
Councillor Arthur Mandry said: "It was a big bureaucratic mistake, there was some confusion as to where the gravel should be placed.
"It ended up too high up the beach. They have now remedied it and apologised to everybody."
The council said the sailing club would seek early permission and make sure all the consents were in place before it starts on any future works on the beach.