Woman gets police commendation for catching sex offender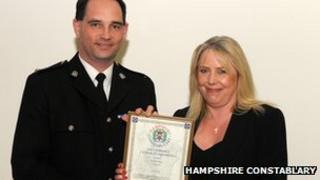 A woman from Winchester who helped uncover a sex offender while she was shopping, has received a police award.
Jane Gothard followed and detained a man she had seen taking indecent pictures of a child in an Alton supermarket.
Her actions led to the arrest and conviction of Mohamad Hatef who was later jailed for two years.
She said: "I wasn't thinking of the consequences, just that he had to be stopped."
Mrs Gothard alerted police after she first saw the man acting suspiciously in the shop taking photographs in September 2009
A fortnight later she saw the man again and immediately took his photo. While shop security staff called the police, they refused to detain him.
She said: "I was exasperated by not getting help from people around me.
"The only thing I could think of doing was to go after him and stop him myself. I asked him to return to the store as the police wanted a word with him.
"I was not prepared to let this man go without identifying him - if no one else was going to do it, I'd have to do it myself."
Mohamad Hatef was then arrested and charged with 32 separate offences relating to indecent images of children - including taking and distributing photographs of children.
He was jailed in November 2011. Hatef will remain on the Sex Offenders Register for life and is subject to a Sex Offender Prevention Order.
Mrs Gothard received a special commendation from Hampshire Constabulary.
Det Con Jacqueline Doran said: "Mrs Gothard's actions opened a huge can of worms. As we probed into the man's background we uncovered numerous offences against children.
"Without Mrs Gothard's action I dread to think what this man may be doing today. As it is, he is behind bars and criminal justice authorities can keep tabs on him for the rest of his life.
"Mrs Gothard's actions were quite remarkable and the local community should be very grateful that she acted in such a courageous way."