Falklands memorial service to be held in Portsmouth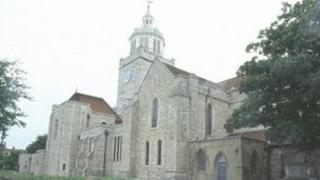 A memorial service to pay tribute to members of the armed forces killed in the Falklands War will be held at Portsmouth's Anglican Cathedral.
Canon Roger Devonshire, who served for 24 years as a naval chaplain, and who was on board HMS Hermes during the conflict, will preach at the service.
Soldiers, sailors and Royal Air Force personnel who served in the conflict will be in the congregation.
The service, on Sunday 6 May will mark the 30th anniversary of the war.
Canon Devonshire described the conflict as "one of the defining experiences of my life".
He said: "It made me rethink a lot of things about life and faith.
"War is actually an intensely personal experience, but you go through it with people who are your friends, colleagues and comrades.
"You form some very close friendships with people, and for most people you're fighting to support the person next to you and you don't think about anything else.
"In that kind of situation, the chaplain represents some sort of normality, some values in a world where everything else seems to be upside down."
Among those invited to the ceremony will be the Deputy Commander-in-Chief Fleet, Vice Admiral Phil Jones; Commodore Bill Walworth, head of the Royal Fleet Auxiliary; the Naval Base Cdr Commodore Tony Radakin; as well as senior representatives of the Royal Navy Reserves and the Royal Marines, who served during the conflict.
'Sacrifices made'
The service will conclude with a Royal Marines band marching to the city's Square Tower where a wreath will be laid at the Falklands Memorial.
The cathedral choir will sing at the memorial site and there will be a salute of veterans from the South Atlantic.
The dean of the cathedral, the Very Rev David Brindley, said: "This will be a service that remembers the local impact of the Falklands conflict on families in Portsmouth, and pays tribute to the sacrifices made by many in defence of freedom.
"The Royal Navy in particular is very important to us as a city and to our cathedral."