Weapons testing deal sustains Portsmouth jobs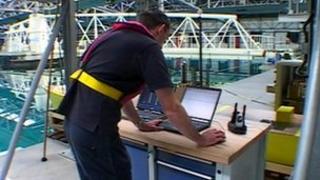 A total of 250 jobs have been protected in Hampshire by a £45m government contract for testing Royal Navy warship weapons systems.
QinetiQ and BAE Systems have been awarded the four-year shore-testing programme at Portsmouth.
The facility, at Portsdown Technology Park, tests and analyses combat systems before they are fitted on warships.
Combat equipment for all Royal Navy warships has been tested at the site for the past 40 years.
'MoD's crown'
The specialised facility makes sure the Royal Navy has safe and capable combat equipment ahead of setting sail on operations across the world.
Chief of Material (Fleet) Vice Admiral Andrew Matthews said: "The facility in Portsdown is a jewel in the MoD's crown as it provides our Royal Navy with a UK-based centre of excellence for the integration of maritime combat systems.
"It makes sure that our ships have all the right equipment working seamlessly, so our sailors can trust that their equipment will work correctly, first time and every time."
Mark Townley, combat systems director at BAE Systems, said: "We selected this facility as a centre for the Type 45 combat system integration and have further developed it for the mission system for the Queen Elizabeth class aircraft carriers.
"This latest contract underlines the region's position as the centre for combat systems capability in the UK."
The news follows reports that BAE Systems is considering the closure of its Portsmouth shipbuilding base.
About 1,500 workers are employed at the dockyard with a similar number in support roles.